The Challenges of Leadership in Self-Organisation
How do you lead a self-organised company? How do you guide people to take the freedom that's offered and entirely change their mindset? How do you handle conflict without a traditional HR department?
Piotr Majchrzak is the Co-CEO of Boldare, founded in 2004, and runs the company together with his wife Anna Zarudzka. During a conversation in the context of a next:pedition alumni meetup about "The Future of HR", Piotr shared how Boldare came to self-organisation and what they're struggling with in the day-to-day of such a huge, ongoing change project.
Also part of the conversation was Gerhard Hochreiter, host of the next:pedition alumni meetup, who provided some insight into the principles of self-organisation.
Hi Piotr! We're curious to know more about Boldare: How are you bold and daring?
Piotr: We're helping customers build products that we wish we'd thought of ourselves. We build products that people want. It's relatively easy to build something, but another thing is to build something that users love and want to pay for. We're around 200 people, mostly in Poland but also some outside of Poland. And we've been on the market for 15 years.
What was your path to self-organisation?
Piotr: When we started out, we were building products the Agile way, even if we didn't know it yet. Then we started professionalising ourselves and exploring Scrum in 2008. From 2012 on, we really pushed on Scrum and even got an external coach. 
Eventually, we were looking for another way to manage the company. It wasn't this one moment or an overnight idea. It was more something that evolved. In 2016 and 2017, we were in this mode of seeking what was next for us. But whatever we looked at, there was always this idea of hierarchy. And we always felt like that was kind of a mismatch. 
2018 was when we officially signed the Holacracy constitution. In the end, we decided to go with Holacracy because it was an almost full system. And that's what we wanted: a system that we didn't have to invent ourselves because we're more into helping our customers than into developing entire organisational systems.
I think the spirit of self-organisation was already there at the beginning: this culture of freedom to reach out, to exchange ideas, but we didn't want to be trapped in chaos.
What are the advantages self-organisation and Holacracy bring for your clients and your employees?
Piotr: The advantage that our clients name first and foremost is ownership. They really feel like the people they are working with at Boldare are on the same side of the game as they are. What they also get is more creativity, which comes from ownership. Our customers also like that we're not afraid to give feedback or question things.
Our employees say that they learn a lot. And I think they also learn about themselves and how to interact with people. They have the freedom to change something, and they get to try new things and even new jobs without switching to a different company.
They also mention that they find people at Boldare who perhaps aren't very similar to them but who share the same values.
What limits did you bump up against with self-organisation that made you realise you needed help?
Piotr: The main thing was that we couldn't find a clear direction in which to go. It was a bit chaotic. Whatever we found, we tried to apply. And that was a struggle. Our mission isn't to be an invention lab. Our north star is to help our customers and to build better things that hopefully will help our planet as well.
We were searching through different tools and frameworks, and we came upon Holacracy. Back then, we already knew this would be quite a change and that we would need top-notch people to help us get there. We searched for top companies in Europe and screened them. Eventually, we found dwarfs and Giants and joined next:pedition in 2019. And here we are, and we've chosen well, I think.
The advantage that our clients name first and foremost is ownership. They really feel like the people they are working with at Boldare are on the same side of the game as they are.
About the learning lab
next:pedition is a learning space for individuals and organisations who are looking to change the way they work and are organised. Set up as a lab, it allows participants to learn together and explore new ways to work.
What was your main takeaway from the learning lab?
Piotr: What helped us most was being able to get from the big idea to what to actually do on a daily basis. Our group wasn't just talking about the idea of self-organisation, but we were taking each step together and figuring things out.
We're definitely not fundamentalists in self-organisation. It's not our goal to be fully self-organised, but it's a direction we want to go into.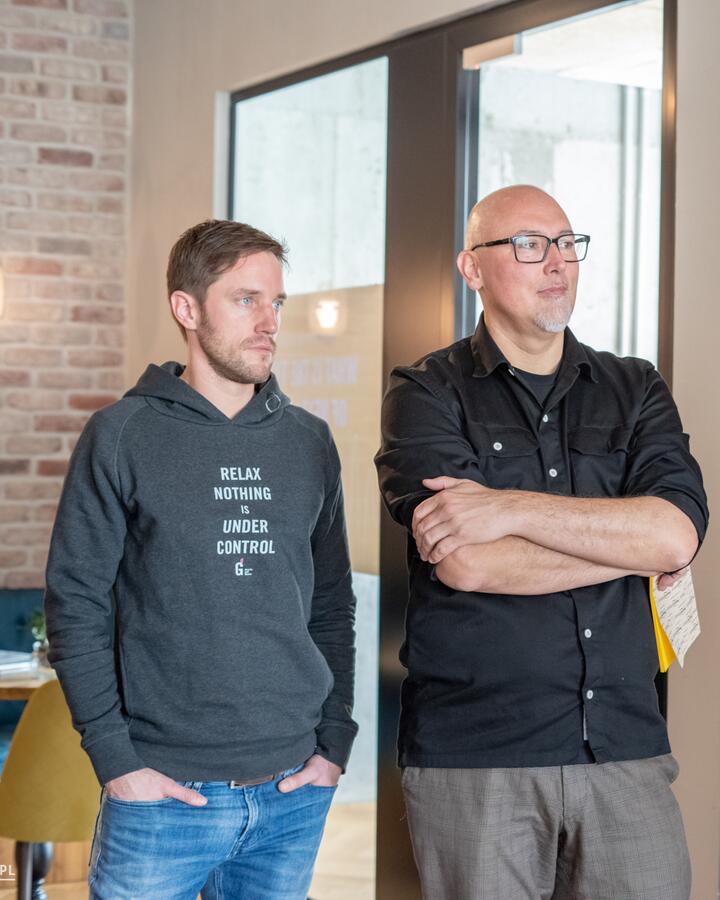 Gerhard: The idea of next:pedition is to try things out, to find the right things for you or reshape them so that they fit for you. It's about creating a north star based on the five principles of next:land, and then find a way there. Every organisation has a culture based on its life path and the business it's in, so Boldare can't compare itself with other businesses. They're all different and have to decide what serves their purpose best.
What were (or are) your biggest challenges?
Piotr: My biggest struggle was not whether I wanted to be there or whether my company should be there. The question was and still is, "is it too early for us?" I know 100% that this is the right direction. But maybe it's too early.
There's the dream you have, but then you touch reality. During the transition, the most challenging moments for me are when people are affected because I always wanted to have a company where the people feel great. So when I see them struggling, that's hard for me too.
But this kind of transformation is challenging for everyone and, even today, when new people join, they sometimes really struggle, especially in the first six months. They struggle with changing their mindset, this idea that they're allowed to do anything.
Then there are those people who are already more self-organised; people who were, for example, working in democratic education, which is similar. And they really thrive in a more self-organised company environment.
We have a three-month onboarding period, which has new people already working in their destination circle. But they also have a two-day self-organisation workshop and are members of an onboarding-specific circle. It's still very hard for most people to adapt. I think it takes time, which there often isn't much of in our culture. So even with this detox, it's still difficult.
This kind of transformation is challenging for everyone and, even today, when new people join, they sometimes really struggle, especially in the first six months. They struggle with changing their mindset, this idea that they're allowed to do anything.
So how do you go about leading people in a self-organised environment? 
Piotr: The definition of HR is already almost contradictory to self-organisation. But you have to use this name in order to line up with others. We decided to go without an HR department. We have a talent acquisition team, which involves employer branding, talent selection, and onboarding — which are basically huge parts of HR, but I would call them more "sales and marketing for people". 
We have roles that are sort of "people supporters"; our Scrum Masters, for example. And we have the Boldare Leadership Academy for anyone who has been at Boldare for more than nine months. It's a training course for people who want to change something at Boldare. But we don't have anyone who you can go and complain to, like HR.
What do people do if there is an issue or conflict?
Piotr: We try to solve it at the team level first. If you're a developer you can go to your Scrum Master, and there are some other support roles.
I think for us, the biggest issue is how to help people within our organisation without being a nanny or mama to them. The question is how to be a self-organised company but also be able to serve those people who don't really want to dive too much into that.
But this is a place where people can evolve. So if they're ready to invest some sweat and tears — hopefully, no blood — and if they really want to grow, then this is the place. 
Obviously, the environment outside Boldare isn't always helpful because we don't have many other companies that are practising self-organisation yet. So we are on this frontier, almost alone, and we have to do everything by ourselves. 
Gerhard: HR is a challenge for most organisations stepping into self-organisation and this new management style. It's a known problem. And it's an experience problem because the more an organisation steps into this new way of working, the more they need a different approach to HR.
So coming from an overprotecting-mother approach, being centralised, trying to standardise and provide answers to questions that haven't even been asked, they have to step into a new role, one that supports self-organising and learning. And this is something HR has to learn as well. So stepping back, supporting others to step into their role, supporting them to do things differently, and also setting up roles and processes for a self-organised organisation is a huge difference in their work.
The best solution is to find people who want to work in this new environment because they don't want to work within a typical, more conservative company environment. 
Would you say you demand more from people than you did before your change to self-organisation?
Piotr: Yes, we demand more. Because we all have to be more well-rounded. You have to have this holistic approach and worldview. You have to be ready to learn how much cash we have, how many months of life we have if no other customer will come, etc. So I think it's more demanding that way.
You have to develop new mechanisms and learn how to work in this environment. But the good thing is that, eventually, every company will be like this. So this is a new way, and it's coming.
What would you say to someone who's just starting to look into self-organisation?
Piotr: I think that you have to take a leap of faith. And you have to be ready for a really hard storm in your company.
The benefits will take a while, maybe 5 to 10 years. So if you go to your CFO and say, "We're going to probably be losing 40% of potential revenue for, like, five years, but then maybe we're gonna be better." — it's hard to make these kinds of decisions.
It's a lot like sailing sometimes. You have to course-correct. One moment we're doing okay, then we have to be a little bit more self-organising, then we have to be more customer-oriented because we're thinking about ourselves too much. I think it's the most tricky part because it is not within the framework of Holacracy.
In the end, you have to explore it by yourself. There is no playbook yet.
Gerhard: What I love about Boldare is that they aren't looking to be the best at being self-organised, but looking for what best serves their purpose and lets them do a good job for their customers. They're looking at what could help them set up their organisation in a more self-organised way and apply those principles and practices.
They're not driven by being a self-organised company but by doing a good job. So they use many ideas taken from Agile and Holacracy. And this is freedom; this is humanity.
Thank you for your time!
Credit: Interview and article by Kai Katschthaler
Find out more about the learning lab next:pedition
in our upcoming Discovery Session!